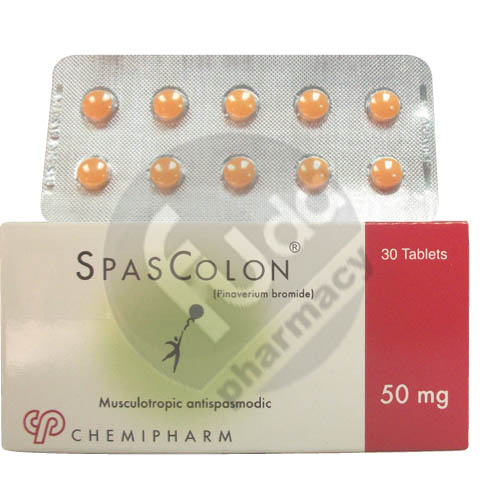 SPAS COL0N film coated tablets.
( pinaverium bromide)
Composition :
Each tablet contains:
Tablets containing 50 mg pinaverium bromide.
Tablets containing 100 mg pinaverium bromide.
Properties :
Spascolon is musculotropic antispasmodic drug. It is a calcium-antagonist which acts selecti.vely on the gastrointestinal tract by inhibiting the calcium entry at the level of the gastrointestinal smooth muscle cell specifically, it is devoid of anticholinergic effects. It is also devoid of cardiovascular effects.
Gastrointestinal absorption of pinaverium bromide is low, as for all
substances of this chemical class, it is generally below 10%.
Indications :
Spascolon is indicated in:
– Symptomatic treatment of pain, bowel disturbances and intestinal discomfort associated with irritable bowel syndrome.
– Symptomatic treatment of pain associated with biliary functional disorders.
– Preparation for endoscopy ( oesophago – gastro – duodenoscopy, colonoscopy and rectoscopy).
Dosage :
– 150 mg to 200 mg daily in divided doses. The dose may be increased to 300 mg daily in divided doses.
– For tbe preparation of Endoscopy:
One tablet 100 mg twice daily for the three days preceding the examination; on the day of examination one tablet 100 mg one hour before endoscopy.
The tablets must be swallowed whole without chewing or sucking with a glass of water during meals.
Contraindications :
Known hypersensitivity to any component of the product.
Use in pregnancy and lactation :
Although animal studies have not demonstrated any teratogenic effects for this drug, it is preferable to take the advice of your doctor before using any drug during pregnancy or lactation.
Drug interaction :
No drug interaction with digitalis and its derivatives, antidiabetics and anticoagulants.
Side effects :
Very rare cases of gastrointestinal disturbances.
Presentation :
Spascolon 50 mg : carton box contains (1 ,2 or 3 blisters, each blister of 10 tablets) and insert leaflet.
Spascolon 100 mg : carton box contains (1 ,2 or 3 blisters, each blister of 10 tablets) and insert leaflet.
Storage :
Store below 30′ C.
Produced by :
Chemipharm Pharmaceutical Industries
6th October City