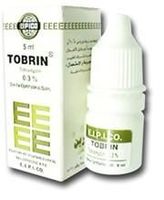 TOBRIN@
Sterile Ophthalmic Solution and Ointment
The Aminoglycoside Antibiotic
Composition :
Each 1 ml or 1 gm contains:
Tobramycin               3 mg
Properties :
Tobrin® contains tobramycin, a water-soluble aminoglycoside antibiotic, which is active against a wide variety of gram-negative and gram- positive ophthalmic pathogens. Spectrum of activity includes: Staphylococci, including S. aureus and S. epidermidis (coaqutase-posltive and coagulase – negative), including penicillin- resistant strains; Streptococci, including S.pneumoniae; Pseudomonas aeruginosa; Escherichia coli, Klebsiella pneumonia, Enterobacter aerogenes, Proteus species, Haemophilus influenzae, H. aegypticus, Moraxella lacunata, Acinetobacter calcoaceticus
and some Neisseria species. Cross-resistance between tobramycin and gentamicin is generally seen, but about 10% of strains resistant to gentamicin are susceptible to tobramycin. Tobrin® ophthalmic
preparations are safe and effective in children. .
Indications :
Treatment of external ocular infections caused by susceptible bacteria.
Dosage and Administration :
Tobrin®ophthalmic solution:
Mild to moderate disease: Instill 1 or 2 drops into the affected eye(s) every 4 – 6 hours. Severe infections: Instill 2 drops into the eye (s) every hour until improvement. Reduce treatment prior to discontinuation.
Tobrin® ophthalmic ointment:
Mild to moderate disease: Apply about 1.5 cm ribbon Into the affected eye(s) 2 or 3 times daily. Severe infections: Apply about 1.5 cm ribbon into the affected eye(s) 'every 3 to 4 hours until improvement. Reduce treatment prior to discontinuation.
Tobrin®ophthalmic ointment may be used in conjunction with Tobrin@ophthalmlc solution.
Tobrin® ophthalmic preparations should be used only during one
month after opening.
Drug Interactions :
Coadministration with systemic aminoglycoside antibiotics requires
monitoring the total serum concentration.
Precautions :
Tobrin® ophthalmic solution is Not for injection into the eye.
Prolonged therapy with Tobrin® as with antibiotics, may result in
superinfection with nonsuceptible organisms, including fungi.
Cross-sensitivity to other aminoglycoside antibiotics may occur.
Patients should discontinue the drug at the first sign of a skin rash or other allergic reactions.
Tobrln® ophthalmic preparations should be used with caution in pregnancy or lactation. The drug may be used only if the potential benefit justifies the potential risk.
Contact lenses should be removed prior to administration of Tobrin@ Lenses may be re-inserted 15 minutes following adminstration of the drug. Patients should avoid allowing the tip of the dispensing container to contact the eye (s) or surrounding structures to avoid bacterial contamination. If more than one topical ophthalmic drug is being used, the drugs should be administered at least 10 minutes apart.
Contraindications :
Hypersensitivity to the drug or other aminoglycoside antibiotics.
Side Effects :
Sensitivity reactions such as transient irritation, burning, itching, swelling, stinging, and conjunctival erythema may occur in some patients.
Packaging :
Tobrin®()phthalmic Solution: Plastic dropper bottles, 5 ml each.
Tobrin®Ophthalmic Ointment: Ophthalmic tubes, 5 gm each.
Keep away Irom reach 01 children.
To be used under medical supervision
PRODUCED BY :
Eipico Ophthalmics
EGYPTIAN INT. PHARMACEUTICAL INDUSTRIES CO.
E.I. P.I.CO.
10th OF RAMADAN CITY- EGYPT