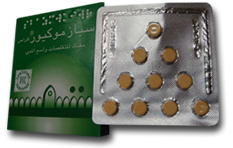 SPASMOCURE
Tablet, Ampoule and Suspension
Antispamodic
COMPOSITIONE :
Each tablet cootains:
Drotaverine HCl     60 mg
Each 2 mI ampoole rentains:
Drotaverine HO     40 mg
Each 5 mI sespension contains:
Drotaverine HCI     20 mg
PROPERTIES :
– DroIaverine HCI affects directly the smoolh musele. It acn by elevalion of cAMP level through phosphodiesterase inhibition, it normalizes the ,mooIh muscle tone bringing the hypertonic state to a nonnotonic Itate.
– Drotaverine HCI is adsorbed onto the surfuce of the IlllOOth muscle cells and thereby, modifies their membrane potential aOO pernx:ability.
– Acting on the smooIh museles of caonaries aOO cerebral blood vessels, it is dfective in increasing blood flow to the COIOIlaries aOO cerebral blood vessel~ bcnce, it is uxd in the treatment and prophyJaxis against oomoary artery spasm aOO in headache of vascular origin.
–  Drotaverine HCl relieves or prevents the development of spasms of the various smooth muscle organs, regardless of their function.
– Drotaverine HCI i. a spasmolytic agent 1troo8et than papaverine and ethaverine wilbout their hypotensive dIed. It has no anticbolinergic dIed, h<nce no side dfects such as drowsiness and dryness of the mouth.
It is well tolerated in all age groups, noo-toxic, noo- teralogenic and can be oombined safely with other ~on. such as pa!8S)'III]lOIOytics and anaIgeaics as in Acapi'I product 'Pelro@' which contains drotaverine, paracetamol and caffein e.
Pharmacokinetics:
The absorption of drotaverine HCI is extremely rapid TII2 abs. is 12 minutes,
I~ clinieaJ dfed laSIS for 4 bows, this fact slroDgly sugges3 that the metaOOIites possess plwmacologicaJ action even stronger than tbe original drota,erine (Z Vargay). The plasma level> reach their peak between 45 and 60 minutes iDdicating rapid absoqlion. ThebalfJifeof dnmerineHO is 16hoorsregardl ess the!OOleofadminislralioo. Acoording to the urinary and faecal elimination data, the elimination 01 drota,erine is practieaJly completed within on hou!1.
Indications:
Spasmmue i8 designed to!fOVenI and cootroI pain and dysfunction caused by smooth muselespasms.
It is indicated in :
1· GastrointestiDallracl:
In all types of inttstinal and gastric spasms e.g, spastic colon, irritable bowel, pain associated with pt!1ic ula:r, pyIao and canIiospasm, g;Witis, cx>itis, Clieritis, Im:smus and intestinaJ colic.
2· G •• hnurinary tract:
N.phroIithiasi~ renal colic, cystitis, prootatitis and pyelitis.
3- Biliary5JSltm:
Bili2ry disorrlers associated with pain aOO spastic symptoms as in cholelithiasis and cholecystitis.
4- Cardio •••• nIar 5JSItm:
As an adjuvant in angina pectori~ coronary insuflicieney and in hyperten~ve patients.
5· GynaecolOC and obs1ttrics:
Spa:ially in spasmodic dysmenorrhoea, threalening ahortioo aOO to regulalt the utaine cootraclions during delivery.
6- Surgery:
Postoperative meteorism of spastic origin and spasm provWd by inSl!'UDll:lltal interventioos.
7· Headache:
T…nnentcihealache specially if it is vasaUar in origin (migraine), also for prophylactic use as well as at the beginning of aUlICk.
8. OIl>-RhiDo·iaryDgnlogy:
Spastic disorrlers in Meniere,s disease and tinnitus of vascular origin caused by spasm of tensor tympani muscle.
Side effects:
In rare cases nausea aOO vomiting roayoccur.
Precautions:
Drotaverine has been very rarely associated with acute attacks of porphyria.
Contraindications:
KnOWn sellllbvity tDiIi!iiMiiii HCI
D0SAGE :
ADULTS :Tablets: 1·2tableu 1·3 times daily
Ampoules; 1to 2 ampouJeslto3 times daily, (IV, fM, SC).
Suspension: one to two 15m1 spoonful> 110 3 times daily.
CHILDREN :
SuspellSion: for younger Children: Half to one 5mJ spoonful to be taken oeee or twice daily.
For older Children: One 5rnl spoonful to be taken once or twice daily.
presentation:
Tablets: boxes of 10, 20 or 100 tablets in strip. of 10 tablets each.
Ampoules; boxes of3, 5, 10 or 100 ampoules
Suspension: bottles of 60 ,100 or 120 m!.
Storage:
Store up to 3O'C.
MANUFACTURED BY :
alpha chem advanced pharmaceutical industries co
Bodr city,third industrial zone cairo. EGYPT