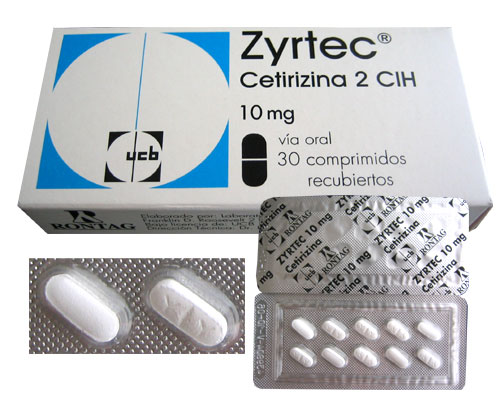 Zyrtec®
Cetirizine dihydrochloride
film-coated tablets/oral drops/oral solution
COMPOSITION :
– Tablets :each film-coated tablet contains cetirizine dihydrochloride 10 mg.
– Oral drops: each mlsolution contains cetirizine dihydrochloride 10 mg.
– Oral solution : each mlsolution contains cetirizine dihydrochloride 1 mg.
DOSAGE FORM, ROUTE OF ADMINISTRATION AND PACKAGING :
– Box containing 10 or 20 film-coated tablets for oral use.
– Bottle containing 10 or 20 ml drops for oral use.
– Bottle containing 100 or 200 ml solution for oral use.
PROPERTIES :
In experimental animals, cetirizine has been shown to be an anti- H1 agent devoid of any signmcant anticholinergic or antiserotonin effects. At pharmacologically active doses, It induces neither sedation nor behavioural changes. This may be explained by the fact  that cetirizine does not cross the blood-brain barrier. : It was shown in human pharmacology studies that cetirizine will • inhibit certain effects produced by exogenous histamine. This
ii activity appears rapidly. Cetirizine also inhibits the effects produced by endogenous histamine released in vivo by an agent such as 48/80.Finally, it inhibits the cutaneous reaction induced by VIP (Vasoactive Intestinal Polypeptide) and substance P, neuropeptides which are believed to take part in the allergic reaction. Cetirizine inhibits the histamine-mediated" early" phase of the cutaneous allergic reaction. It also significantly reduces the migration of
inflammatory cells such as eosinophils and the release of mediators associated with the" late"cutaneous allergic response.Cetirizine markedly reduces bronchial hyperreactivity to histamine in the asthmatic patient. It also reduces the allergic reaction induced by specific allergens. These effects are obtained without any central effects being demonstrated either by psychometric tests or by a quantified EEG.Peak blood levels are reached within one hour after
oral administration of cetirizlne.The plasma half-life is approximately 10 hours in adults, 6 hours in children aged 6 to 12 years and 5 hours in children aged 3 to 6 years. These data are consistent with urinary excretion half-life ofthe drug. The cumulative urinary excretion represents about two thirds of the
dose given in both adults and children. Consequently, the apparent plasma clearance in children is higher than that measured in adults.Absorption is very consistent from one subject to the next.Plasma levels are linearly related to the dose.given. Cetirizine.is. Strongly bound to plasma proteins.
INDICATIONS :
– Adults and children of 3 years or above: symptomatic treatment of seasonal rhinitis and conjunctivitis as well as perennial allergic rhinitis.
– Adults :treatment of pruritis and urticaria of allergic origin.
DOSAGE AND DIRECTIONS FOR USE :
– Adults and children of 6 years or above: in most cases, the recommended dose is 10 mg daily as a single dose. It is advisable to take the drug with a little liquid during the evening meal since the symptoms for which the product is given usually appear during the night.ln patients affected by side effects, the dose may be taken as 5 mg in the morning and 5 mg in the evening.
– Children between 3 and 6 years: the recommended dose is 5 mg daily as a single intake or 2.5 mg in the morning and the evening.
– Tablets: 1 tablet = 10 mg '12 tablet=5 mg
– Drops: 20 drops ('" 1 rnl-) = 10 mg 1 Q drops(=O.5 ml )= 5 mg 5 drops (=0.25 ml) =2.5 mg
– Solution: 10 ml solution = 10 mg 5 ml solution = 5 m 2.5 ml solution = 2.5 mg
CONTRA-INDICATIONS:
Hypersensitivity to any of the constituents of drug.
SlDE EFFECT :
There-have been occasional reports of mild and transient subjective side-effects such as, headache, dizziness, drowsiness, agitation, dry mouth and gastro-intestinal discomfort. In objective tests of psychomotor function, the incidence of sedation with cetirizine was similar to that of placebo.Very
occasionally symptoms of hypersensitivity have been reported.
SPECIAL PRECAUTIONS :
Cetirizine at therapeutic doses has not shown a potentiation of the effects of alcohol (for an alcohol blood level of 0.8 g/L ). Nevertheless, precaution is recommended.
PREGNANCY AND LACTATION :
Teratology studies in animals have not demonstrated any special adverse effects. As a precaution, however, cetirizine should not be administered to pregnant women during the first three months of pregnanacy, nor should women who are breastfeeding take the drug.
DRUG INTERACTIONS :
To date there are no known interactions with other drugs. Nevertheless, caution is recommended if sedatives are also being taken.
DRIVING OR OPERATING MACHINERY :
Studies in healthy volunteers on 20 or 25 mg /day have not revealed effects on alertness or reaction time.Patient should be advised, however, to take care not to exceed the recommended dose.
OVERDOSAGE :
Drowsiness can be a symptom of overdosage, occuring from administration of 50 mg as a single dose. To date, there is no specific antidote. In the case of massive overdosage, gastric lavage should be performed as soon as possible. Apart from the usual supportive measures, all vital parameters have to be
monitored regularly.
STORAGE:
Store at room temperature ( 15 to 25 0 C ).
STABILITY :
– The expiry date on the package, found after the mention" Exp." Should not be exceeded.
– keep all medicines out of the reach of children I
Manufactured by :
GlaxoSmithKline S.A.E
El Salam City, Cairo, A.R.E.
under licence from UCB.Belgium