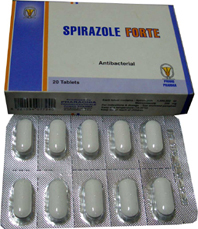 SPIRAZOLE FORTE                                Antibacterial
    Tablets                                              for buccodental & upper
                                                                 respiratory tract infections
COMPOSITION:
Each SPIRAZOLE FORTE tablet contains:
Spiramycin                                   1.5 MIU
Metronidazole                            250 mg
PROPERTIES:
Spiramycin is a macrolide bacteriostatic antibiotic. It has a wide spectrum of activity for the treatment of infections caused by susceptible organisms such as Streptococcus pyogenes, Streptococcus viridans, methicillin sensitive Staphylococcus aureus, Bordetella pertussis, Corynebacterium diphtheriae, Chlamydia trachomatis and Mycoplasma pneumoniae. Metronidazole has
marked activity against anaerobic bacteria .and protozoa. This complementary combination shows synergism in inhibiting sensitive bacteria involved in buccodental and upper respiratory tract infections.
INDICATIONS:
SPIRAZOLE FORTE is highly effective in the treatment of acute, chronic and relapsing stomatologic and upper respiratory tract infections such as:
– Dental infections as in dental abscesses, pericoronitis, periodontitis, gingivitis and stomatitis ..
– Pharyngitis, tonsillitis, sinusitis and otitis media.
– Parotiditis and submaxillaritis.
– Prevention of local post-operative infection complication inodontostomatologic surgery.
DOSAGE:
SPIRAZOLE FORTE tablets should be taken on an empty stomach. Adults: one tablet 2-3 times daily.
Children 10-15 years: '12 tablet 3 times daily.
Children 6-10 years: % tablet 2 times daily.
SIDE EFFECTS:
SPIRAZOLE FORTE tablets are well tolerated. Mild gastrointestinal disturbances as nausea, diarrhea and unpleasant taste, and darkening of urine may occur.
CONTRAINDICATIONS:
Hypersensitivity to spiramycin or metronidazole. Pregnancy and
lactation.
DRUG INTERACTIONS:
Disulfiram-like reaction occurs with concomitant administration of alcohol. The effect of oral anticoagulants is enhanced.
PRECAUTIONS:
As with other preparations containing metronidazole. the drug should be used with great care in patients with blood dyscrasias or with active diseases of the central nervous system. Consumption of alcohol should be avoided during the course of treatment.
PACKING:
A box containing 10 or 20 tablets.
STORAGE:
Keep at a temperature (15-30°C).
Keep out of reach of children.
PRODUCED BY :
PHARAONIA PHARMACEUTICALS
New Borg El-Arab City Alexandria, A. R. E.