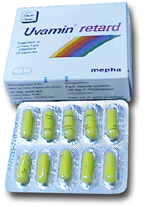 Uvamin retard Capsules
Urinary Infections
Composition :
Each capsule contains:
Nitrofurantoin (macrocrystals) 100 mg
Properties :
Nitrofurantoin exerts a bacteriostatic action on sensitive microorganisms
(bactericidal in high concentrations) by intervening in the protein synthesis of the bacteria. For 1Y2 -9 (-10) hours after oral administration its excretion in the urine remains almost constant and sufficiently high to effectively combat the principal microorganisms involved in urinary infections. While the concentration in the serum and tissues does not reach therapeutically usable levels, in the lumen of the urinary tract active substanc concentrations bringing-atmut reliable cavity disinfection are attained. Macrocrystalline nitrofurantoin of the type used by Mepha in Uvamin ™ retard 1 00 mg capsules has a good gastrointestinal tolerance even if administered in doses of 200 to 300 mg per day.
Indications :
Chemotherapeutic agent for cavity disinfection of the urinary tract in infections with  sensitive microorganisms, including in particular: E. coli, Klebsiella, Enterococci,  Enterobacter, Proteus and Staphylococci.
Acute and chronic urinary infections such as pyelitis, pyelonephritis, cystitis; in surgery as a precaution against infection.
Dosage :
Acute urinary Infections:
Adults: 1 capsule 2 or 3 times per day for 4 to 7 and not more than 10 days.
Age 12to 14: 1 capsutstwtcsper day for 4 to 7 days.
Chronic urinary infections:
Long-term therapy for adults: 1 to 2 capsu les per day. Uvamin™ retard should be taken after meals.
Contraindications :
• Anuria, oliguria, polyneuropathy, allergic reactions to nitrofurantoin. Elevatedblood urea leve s. Creatinine clearance oeloW2rO ml/mi1t.
• Caution is indicated in any impairment of excretion and during the first three
months of pregnancy.
• Neonates and infants .
Side effects :
In rare cases anaphylactic symptoms with circulatory collapse occur. Failure to observe the contra indications may lead to peripheral polyneuropathy. If such symptoms occur, the treatment must be discontinued immediately.
Precaution :
Patients should avoid consuming alcohol during treatment.
Storage :
Keep below 30° C.
 Presentation :
Packings of 20 capsules.
Manufactured by:
Medical Union Pharmaceuticals,
Abu-Sultan, Ismailia, Egypt.
Under Licence from
Mepha Ltd. Aesch – Basel, Switzerland.