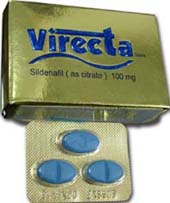 Virecta film coated tablets
Composition:
Each F.C. tablet contains:
Sildenafil (ascitrate) 100 mg
Properties:
Virecta is a safe and effective oral treatment for erectile dysfunction (ED) in men. ED is the persistent inability to achieve or sustain an erection sufficient for sstisfactory sexual performance, a satisfactory treatment for this condition relies on the relaxation of the smooth muscles of the corpora carvemosa to facilitate erection. Sildenafil citrate is a selective inhibitor of type V phosphodiesterase (PDE5) that enhances the effect of nitric oxide (NO) which is released in the corpora in response to sexual stimulation. The release of NO stimulates the enzyme guanylate cyclase to produce cyclic GMP, which in turn relaxes arterial smooth muscle. Cyclic GMP is then broken down by PDE5. Sildenafil as a PDE5 inhibitor prevents the breakdown of cyclic GMP and
hence prolongs arterial relaxation and inflow of arterial blood and thereby enhances erection. Vi recta therefore causes erection only in the context of sexual stimulation.
Indications:
For the treatment of erecti le dysfunction
Contraindications:
-In patients with known hypersensitivity to sildenafil or any of the
components of the tablet
-In patients who are using organic nitrates, concomitant therapywith Virecta "may potentiate the  hypotensive effect of nitrates.
-Not indicated for use in newborn, children or women
-In patients with pre-existing cardiovascular disease and those having atrophy of the optical nerve and decreased visual field.
-Prolonged erection greater than 4 hours (painful erection greater than 6 hours in duration) the patient should seek immediate medical assistance .If priapism is not treated immediately ,penile tissue damage and permanent loss of potency could result.
Drug interactions:
-It is not recommended to use Virecta in combination with other treatments for erectile dysfunction
-Concomitant administration of the protease inhibitor ritonavir increases serum concentration of Sildenafil, also co- administration of the HlV protease inhibitor saquinavir increases the level of Sildenafil, caution should therefore be exercised in such patients.
-Co-administration of the potent cytochrome P450 3A4 inhibitors, Erythromycin, Ketoconazole and Itraconazole as wcll as the non specific CYP irthibitor Cirnetidine increases the plasma level of Sildenafil through reduction of its clearance.
-The CYP stimulant Rifampin decreases plasma level of Sildenafil
Precautions & Warnings:
Vi recta should be used with caution and under medical supervision in patients associated with the following
conditions:
-Prc-existing cardiovascular disease such as angina, chest pain, heart failure, irregular heart beats, hypotension or hypertension
-Severe hepatic or renal impairment
-Ages above 65 years
-Rare irtherited disease of retinitis pigmentosa
-Blood diseases such as sickle cell anemia, multiple myeloma or leukemia, deformed penis, Peyronie's disease or an erection that lasted more than 4 hours
-Stomach ulcers or any type of bleeding problems
Side Effects:
With the prescribed dosage, the most common side effects, which are only mild to moderate effects that usually do not last longer than a few hours are headache, flushing of the face, dyspepsia, nasal congestion and to a lesser extent urinary tract infection, mild and transient calor tinge to vision, sensitivity to light or blurred vision, diarrhea, dizziness and rash. Other minor adverse effects that are less common and are not
likely to occur arc:
– Vomiting, glossitis, colitis, dysphagia, gastritis, gastroenteritis, stomatitis, dry mouth, abnormal liver function tests, rectal hemorrhage, gingivitis.
– Edema of the face, photosensitivity reaction, shock, asthenia, chills,abdominal pain, allergic reaction, chest pain
-Angina pectoris, AV block, migraine, syncope, tachycardia, palpitation, postural hypertension, myocardial ischemia, cerebral thrombosis, cardiac arrest, heart failure, abnormal electrocardiogram, cardiomyopathy
-Arthritis, arthrosis, myalgia, tendon rupture, tenosynovitis, bone pain, myasthenia and synovitis Anemia and leukopeoia
– Thirst, edema, gout, diabetes, hyperglycemia, peripheral edema, hyperuricemia, hypoglycemic reactions, hypematremia
– Ataxia, hypertonia, neuralgia, neuropathy, paresthesia, tremor, vertigo. depression, insomnia, somnolence, decreased reflexes and hypesthesia
–  Asthma, dyspnea, laryngitis, pharyngitis, sinusitis, broncbitis, increased sputum and cough
– Urtiearia, herpes simplex, pruritus, sweating, ulcer. contact & exfoliative dermatitis,
– Mydriasis, conjunctivitis, photophobia, tinnitus, eye pain, deafness, ear pain, hemorrhage, cataract, dry eyes
– Cystitis, nocturia, urinary frequency, breast enlargement, urinary incontinence, abnormal ejaculation, general edema and anorgasmia
Dosage and Administration:
Half to one tablet one hour before sexual activity. The maximum recommended dosing frequency is once per day A dose of 25mg( 1/4 taiJl«J.) should
impairment ,severe renal failure and age over 65 years old as a dose more than that may lead to increase in sildenafil serum level and so increase in both the efficacy and incidence of adverse effect.Overdosage The medication is stopped and standard supportive measures are to be immediately adopted.
Storage :
Store below 30°C in a dry place
Keep out of the reach of children
Package:
Pack of three or six tablets.
Manufactured by :
EVA Pharma for Pharmaceuticals & Medical Appliances, Egypt